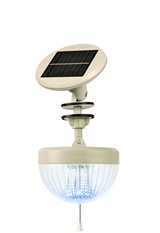 Why by this when you can get it free!

Order your barn shed from
Barns.com Inc and receive Item # SLS250
for free, just pay for shipping and handling.
Item #: SLS250 Rating:

Fit's Any Roof Structure, Shingle or Metal!


Light up your structure with with this easy to install solar charged light. No electrical wires to install, just secure it to the roof or side wall and let the sun do the rest. Our Crown Solar Shed Light is completely solar proof and can be easily installed on all types of material; metal, wood or plastic. It is charged by a powerful Mono Crystal solar panel and the LED light never need to be replaced.

Features include:
Requires only 1 hole of 0.6"
Lamp can be installed at any required angel
Up to 3-4 hours run-time
Built in night light to find switch easily
Easy adjustment of solar panel
The Barns.com Inc Solar Light System (Item #SLS250) comes FREE with the purchase of any Barns.com Inc structure purchase! Just pay for shipping and handling. Only available by calling from our local phone directory or toll free 888-812-2767. Call for offer details.